Financial Commissioner Revenue Ladakh chairs LLaRMA Governing Body meeting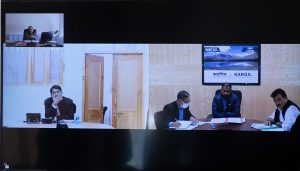 Leh, Sep 13: Financial Commissioner Revenue, UT Ladakh/ CEO LLaRMA, Dr Pawan Kotwal chaired a meeting of the Governing Body of the Ladakh Land Records Modernization Agency (LLaRMA) to discuss the progress under DILRMP & SVAMITVA. Also, discussion on issues of getting the survey/ resurvey of the non-Abadi deh area including agricultural land in all the villages/ estates of the villages as per Record of Rights (RORs) and the Barren & Waste Lands as defined under the Section 39 of the Land Revenue Act, SVT 1996 from the Survey of India were also held during the meeting.
At the outset, Dr Pawan Kotwal, CEO, LLaRMA informed that there are about 250 Revenue villages in the UT of Ladakh. However, there is a vast area of waste and barren land, as defined under Section 39 of the Land Revenue Act which also needs to be measured and reflected in the Revenue Records of the Department.
Further, he informed that under SVAMITVA scheme, Survey of India as the technology partner has already been entrusted the work of conducting the survey of the land and property inside the Abadi-deh (Lal Dora) areas of the Revenue Villages/Estates. Survey of India has already established 11 number of Continuously Operating Reference Stations (CORS) and started the work of survey of Abadi-Deh areas in the villages with the help of drones in order to enable a geo-tagged and detailed spatial database of properties/ land in the abadi-deh. He emphasised that similar Survey/ Resurvey exercise also needs to be carried out in the UT of Ladakh the Revenue Villages and the Waste/Barren land which has not yet been surveyed. Under the Digital India Land Record Modernization Programme (DILRMP) a 100% Centrally Sponsored Scheme of the Department of Land Records, Ministry of Rural Development, Government of India.
The meeting was attended by members of LLaRMA, Commissioner/ Secretary, Housing and Urban Development, Ajeet Kumar Sahu; Secretary, Information Technology Development Department/ Divisional Commissioner Ladakh, Saugat Biswas; Administrative Secretary, Law Department,Preet Pal Singh; Deputy Commissioner, Leh, Shrikant Balasaheb Suse; Deputy Commissioner, Kargil, Santosh Sukhadeve; Rep of State Information Officer, NIC, UT Ladakh Representative of SOI, JK, Ladakh and other officials were also present in the meeting.