FCS&CA officials inspects Leh and it's adjacent markets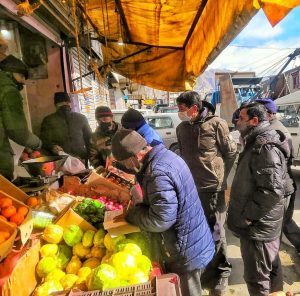 Leh, Jan 30: Taking quick action on public complaints on overpricing of vegetables and other essential items, a market checking team from Food, Civil Supplies and Consumer Affairs department (FCS&CA) Leh under the direction of Dy Chairman, LAHDC Leh conducted an intense checking of around 60 vegetables/other shops in Leh and it's surrounding areas on 29th of January, 2022.
The market checking team imposed fine on the defaulting shopkeepers for overpricing of food items and not following the norms of properly displaying rate lists approved by the Administration.
A total fine of Rs 21,500 was collected and a strict warning was given to the defaulters from refraining from such activities.