EJM College Leh celebrates International Women's day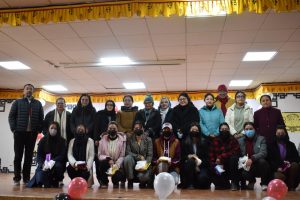 Leh, March 8: The College Student Council along with the College Gender Sensitization Committee-(GS-CASH) celebrated International Women's Day on March 8 in the college premises.
The event was specially held to felicitate female students of Eliezer Joldan Memorial College who had made a mark in varied fields and also to create awareness about gender sensitization and gender equality.
Congratulating all on International Women's Day, Principal, Eliezer Joldan Memorial College Leh, Prof. Tashi Ldawa stressed on the importance of women empowerment. He also urged all students to promote gender sensitisation.
Asstt. Prof. English, Convener- EJMC GS-CASH, Sonam Angmo spoke on ' Gender reflections in Society', and highlighted the need for gender awareness and gender equality.
Asstt. Prof. EVS, Dr. Sonam Wangmo shared her views on the topic: 'Women and Environment', and underlined the contribution of women in different fields, while Asstt. Prof. Mass Comm & Journalism, Hajira Bano spoke on the status of Ladakhi women and the role of media in women empowerment.
The event was also marked by melodic song renditions and traditional dance performances led by students of EJM College, Leh. The event ended with a special felicitation ceremony to the young female student achievers of EJM College Leh who had made a mark in diverse fields from NSS, culture to sporting events etc.
The special event was graced by the Principal of Ejm College Leh, faculty, staff and students.