EC Tashi discusses event calendar for tourism activities in winter season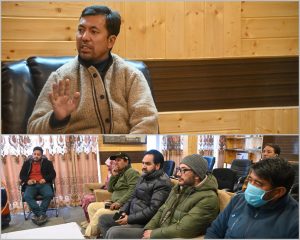 KARGIL, DECEMBER 01, 2021: Executive Councillor (EC) for Tourism Er Phunsok Tashi today convened a meeting of the concerned officers and tourism stakeholders to discuss the calendar for tourism related events in the district for this winter season.
The meeting was attended by the Assistant Director Tourism Aga Syed Toha, Executive Engineer Kargil Development Authority Sajjad Hussain Wazir, BDC Chairperson Shakar Chiktan Syeda Banoo, Assistant Tourist Officer Rasool Lal, representatives of District Youth Services and Sports and Ladakh Academy of Art, Culture and Languages, President Ladakh Adventure Sports Shahnawaz Var, Working President All Kargil Travel Trade Association (AKTTA) Hassanain Rangyul besides other concerned officials were present during the meeting.
After detailed discussion, it was decided to conduct a series of events including the Mountain Day Celebration, Mamani Festival, Ladakh Winter Carnival, Nauroz and Apricot Blossom Festival.
During the meeting, EC Tashi also approved dates for these events and instructed all the stakeholders to do their best in making the events successful.
The meeting also discussed various winter tourism related activities like the frozen river walk, snow soccer, snow cycling, snow walk, ice hockey, snow skiing, snow sculpture event, local skiing for adventure, archery besides other related activities.
The EC further instructed the tourism stakeholders to conduct diverse events in collaboration with the Department of Tourism for winter tourism promotion in the district.