EC Syed Hassan Arman inaugurates 2 day District Level Multilingual Hussaini Mushaira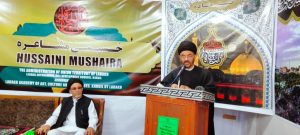 KARGIL, AUGUST 30, 2021: Two Day District Level Multilingual Hussaini Mushaira organized by Ladakh Academy of Art, Culture and Languages (LAACL), Kargil started at Language Centre Academy Complex Kargil here today.
Executive Councilor for Social Welfare Aga Syed Hassan Arman Mosavi who was the chief guest on the occasion inaugurated the 2 day literary event which is being attended by more than 50 senior as well as novice poets from across the district representing Urdu, Balti, Purgi and Shina Dardi languages.
On the first day today more than 20 poets presented their poetic renderings mostly aimed at rendering praise and paying rich tributes to the martyrs of Karbala, and reflecting upon the philosophy of martyrdom.
The poetic session was presided over by noted senior poets Aga Syed Raza Razvi, Akhone Asgar Basharat and Ghulam Ahmad Khan Jawan while the poets who presented their poetic renderings included Aga Syed Raza Razvi, Akhone Asgar Ali Basharat, Aga Syed Kazim, Fida Ali Fida, Zakir Hussain Karbalai, Muhammad Ali Baba, Muhammad Taqi Khan Nayab, Geyn Nawang Paljor, Muhammad Yasin Ansari, Muhammad Jawad Jalib, Muhammad Asgar Aasi, Fida Hussain Wazir Fida, Ghulam Qadir Zakki and Murtaza Fazily.
Speaking on the occasion, EC Syed Hassan Arman said that Karbala is an institution where we can learn how to improve the standards of a civilized society, and how to uphold the concept of justice and to stand firm against the oppressors and always do greater sacrifices to let good prevail.
Aga Syed Hasan Arman further said that poetry is a great art form and poets have a huge role in bringing change in society, as humans have a great tendency to get related towards this art form.
The EC Social Welfare also hailed LAACL Kargil for organising the Hussaini Mushaira and suggested to continue such programmes in future as well, adding he urged the senior poets to guide aspiring poets towards this art form.
Earlier, Deputy Secretary LAACL Kargil, Nazir Hussain while highlighting the objective of the 2 day literary event said that these literary sittings have been held with the twin objective to pay poetic tributes to the martyrs of Karbala besides also giving impetus to the art of religious poetry in vernacular languages. He said that yet another objective of the programme is to provide suitable platform to the budding poets to refine their poetic abilities under the guidance of the senior poets.
Among others who were present on the occasion included poets, writers, district officers, students from different schools and good number of literary enthusiasts.
Noted Urdu and Shina Dardi poet Mukhtar Zahid conducted the proceedings of the poetic session held today.