EC Syed Abbas visits Chutak area Assures locals of immediate restoration of damaged khul, temporary drinking water supply, maintenance of children's park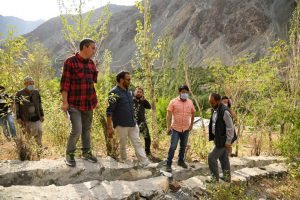 KARGIL, AUGUST 06, 2021: Executive Councilor for Works Aga Syed Abass Razvi visited Chutak area today where he took stock of the damaged irrigation khul, drinking water supply line and children's park.
Sarpanch Panchayat Halqa Choskore Muhammad Mehdi, engineers of R&B, PHE and I&FC besides other concerned officials accompanied the EC works during the visit.
Taking on spot assessment of the damaged khul, EC Syed Abass Razvi directed the concerned engineers to restore the khul at the earliest possible.
EC Syed Abbas also directed the concerned engineers to prepare a DPR of the damaged khul for its permanent restoration so as to address the scarcity of water for irrigation purposes in the area. He also directed the engineers of PHE to make immediate temporary arrangements to provide safe and clean drinking water to the villagers within 3 days.
Meanwhile, the EC works assured the villagers that adequate measures will be taken for maintenance of the children's park in the area, and a meeting in this regard will be soon held with the NHPC authorities.