EC Social Welfare inaugurates plantation drive Kurbathang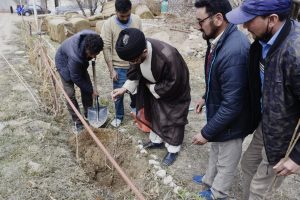 KARGIL, MARCH 28, 2022: Executive Councilor for Horticulture and Social Welfare, Aga Syed Hassan Arman today inaugurated plantation drive 2022-23 at MOCN Horticulture Farm Kurbathang.
The drive started with the planting of a pear sapling by the EC at the premises of Horticulture Farm Kurbathang. Progressive farmers received various varieties of fruit saplings under different schemes of the horticulture department.
Meanwhile, the EC distributed different fruit plants like high-density Apple, normal Apple, pear, cherry, plum plants among the progressive farmers.
EC Arman also inspected the nursery plots and high-tech greenhouse at the campus.
He applauded the progress made by the nursery staff posted there and advised them to continue their work with dedication and commitment.
Pertinently, 25,000 grafted saplings were procured from Kashmir valley in November 2021 which will be distributed among interested farmers while 20,000 more apricot rootstocks are also available for sale.