EC Razvi donates hand pump kits at Pranti Panikhar Attends Archery Competition at Saliskote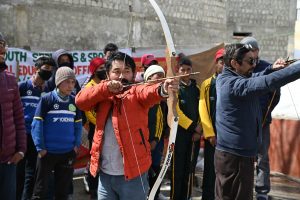 KARGIL, MARCH 08, 2022: Executive Councillor Works, Aga Syed Abbas Razvi today visited Panikhar in order to check the functioning of hand pumps at various villages of the area and attended an archery competition at Saliskote.
Concerned officers, technicians of PHE accompanied him during the visit. At Pranti Jamia Masjid, EC Razvi donated hand pump tool kits and directed to make the hand pump functional within a week.
The EC directed the concerned officers to make functional the hand pumps of Yuljuk, Choskor, Dalache and Panikhar villages at the earliest for public convenience.
Later, EC Razvi attended Archery Competition at community centre Saliskote organized by DYSSO Kargil for students of TSG block under Khelo India.
On the occasion, the EC said it is overwhelming to witness sports activities as these were halted due to restrictions of the Covid-19 pandemic.
Razvi asserted that Archery is a traditional sport of Ladakh and youth should dedicatedly learn the skills of the game. He said LAHDC Kargil is committed to promoting any promising talent and sporting infrastructure in Kargil.
DYSSO Muhammad Hussain Rehnuma thanked the EC for attending the event and said that the competition is organized to promote Archery among the youth of TSG under Khelo India.