EC Razvi chairs meeting of RKS, inaugurates meeting hall, 100KV transformer at PHC Taisuru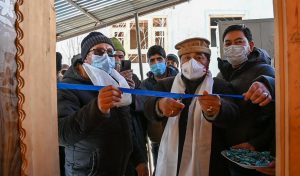 KARGIL, JANUARY 15, 2022:
Executive Councilor for works, Aga Syed Abass Razvi, who is also the chairman of Rogi Kalyan Samiti (RKS) chaired a review meeting of physical works under RKS Budget, inaugurated meeting hall and transformer of 100 KVA at Primary Health Center (PHC) Taisuru.
Block Medical Officer Taisuru, Dr Sajjad Hussain, Deputy Medical Officer Kargil, Dr Muhammad Abass, Medical Officer, Dr Showkat Ahmed, in-charge ZEO Manzoor Ahmed besides other concerned officers were present during the meeting.
BMO Dr Sajjad Hussain informed that in the previous year up to December end, the PHC has provided various medical services to the people of Taisuru and other adjoining areas including OPD, IPD, X-Ray, minor surgeries, diagnostic tests, ultrasound and other medical services.
He also said that the overall number of patients and medical treatments have also increased exponentially during this year for the betterment of patient care.
The BMO also gave a detailed review of the physical works achieved during the financial year 2021-2022 under RKS Budget of Rs 9.57 lakhs which includes installation of AC at BMO office, flooring and renovation of BMO office, bathroom facility at labour room, installation of CCTV cameras, white washing and electrification of PHC besides other related works.
Dr Sajjad also apprised the EC Works that around 50% of the works have been completed and the remaining 50% works will be completed before the end of current financial year.
Meanwhile, EC Razvi hailed the efforts of the BMO, doctors and paramedical staff of the PHC Taisuru in providing basic medical facilities for the locals.
He congratulated the BMO for remarkable services for the up-gradation of PHC in terms of equipping the hospital with modern medical facilities and development of infrastructure as well.
EC Razvi directed the BMO to submit proposals for necessary requirements of various medical sub-centers in order to develop them with modern medical facilities for better patient care.
Razvi said that LAHDC Kargil is committed to provide health care facilities at all PHCs in the district and stressed on right of every individual to have primary health care at doorsteps
He also said that people should not face any problem in seeking medical facilities, especially during the winter season.
Earlier, EC Razvi inaugurated Meeting Hall constructed under CAPEX Budget with the cost of Rs 5 lakhs and 100KVA Transformer under PMKKY scheme out of DMT Fund at the cost of Rs 9.40 lakhs.
Later, the EC inspected the medical facilities at PHC Taisuru including lab section, causality, general wards, labor room, ultrasound section, cold storage, dental section and other sections.
EC Razvi was satisfied with the medical facilities being provided at the PHC and assured that in the future more medical facilities will be added to the PHC for better patient care services.