EC Phunsok Tashi reviews arrangements for conduct of 2 Day Ladakh Zanskar Festival under Azadi Ka Amrit Mahotsav at Padum on 15th and 16th September, 2021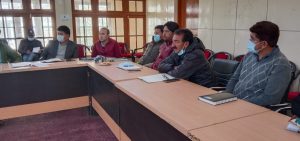 KARGIL, SEPTEMBER 14, 2021: To discuss the status of necessary arrangements for the smooth conduct of 2 Day Ladakh Zanskar Festival under Azadi Ka Amrit Mahotsav on 15th and 16th of September, 2021 at Padum Executive Councilor for Tourism and Zanskar Affairs Er Phunsok Tashi convened a meeting of the concerned district and sub divisional officers at Dak Bungalow Padum here on Monday.
Sub Divisional Magistrate Zanskar Sonam Dorjay, Deputy Secretary Culture Kargil Nazir Hussain, Special Officer for Cultural Activities Kargil Muhammad Ali Tak, SHO Zanskar Jigmet Singhay other concerned sub divisional officers attended the meeting.
The EC took brief from the officers on various aspects of the arrangements related to the successful conduct of the 2 day festival like the conduct of cultural programmes and other activities, boarding and lodging of the guests and artists, transportation and other related arrangements.
EC Tashi instructed the concerned officers to complete all required arrangements with regard to the establishment of festival venue, security, uninterrupted power and water supply and power back up, medical facilities, boarding and lodging of participants, conduct of archery exhibition matches and organizing of the Fit India Freedom Run.
The EC Tourism also stressed the officers to ensure adequate measures are taken for smooth conduct of cultural and literary programmes, white water rafting, children's on spot painting and music competitions, setting up various stalls by different departments showcasing the details of different government schemes, stalls of handloom and handicraft products by concerned departments and SHGs, stalls of organic vegetables, ancient and modern agriculture tools, implements and machines, Doksa lifestyle showcasing the traditional nomadic life of Zanskar Valley, conduct of traditional horse race and yak ride and other related arrangements.
EC Phunsok Tashi impressed upon all officers to ensure that necessary arrangements are put in place well in time so as to ensure that the 2 day festival is conducted in a smooth and hassle free manner.