EC Mohsin attends selection trial of Ladakh Archery Team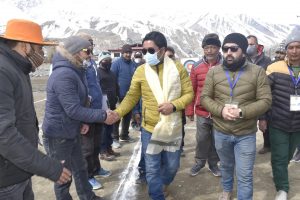 KARGIL, FEBRUARY 28, 2022: Executive Councillor for Health, LAHDC, Kargil, Mohsin Ali today attended the final day of Ladakh Archery team trial at Biamathang, Kargil for National Championship in Jammu.
Besides EC Mohsin, District Youth Services and Sports Officer, Muhammad Hussain Rehnuma, Councillor from Khaltse, Lobzang Sherab, president Hotels Association, members of Archery Association of Ladakh, and aspirants were present on the occasion.
Speaking on the occasion, EC Mohsin congratulated the aspirants for their participation and appreciated the Archery Association of Ladakh for conducting an impartial and fair trial for the selection process.
In the two-day-long trial, the top 10 players will be selected among 20 players that include 10 each from Leh and Kargil districts. Among these 10 archers, the top four will be finally selected to participate in the national championship to be held in Jammu from March 18 onwards.