EC Mohsin Ali flags off ALS ambulance to CHC Chiktan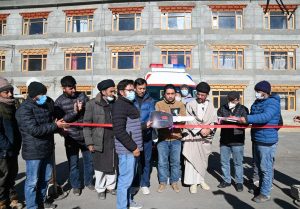 KARGIL, DECEMBER 28, 2021: Executive Councilor for Health Mohsin Ali today flagged off Advanced Life Support (ALS) ambulance for CHC Chiktan from Council Secretariat Kargil.
On the occasion, Executive Councilor Agriculture Syed Arman, Executive Councilor Tourism Punchok Tashi, Councillor Chuliskamboo Altaf Hussain, Councillor GM Pore Syed Mehdi, Councilor Lankerchey Ghulam Haider, Chief Medical Officer Kargil Dr Munawar Hussain Wazir and in charge BMO Chiktan Muhammad Ahsan were present.
The concerned officers apprised the EC Health that the ALS ambulance has been purchased under CAPEX budget 2021-22 at a cost of Rs 50 lakhs which was handed over CHC Chiktan.