EC Health attends event in connection with Ayushman Diwas, 2021 celebrating three successful years of PM-JAY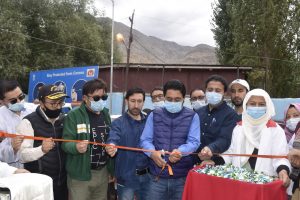 KARGIL, AUGUST 23, 2021: Executive Councilor for Health Mohsin Ali attended an event organized in connection with Ayushman Diwas, 2021 celebrating the three successful years of Pradhan Mantri Jan Aarogya Yojana (PM-JAY) at District Hospital here today.
Chief Planning Officer (CPO) Kargil Abdul Hadi, Chief Medical Officer (CMO) Kargil Dr Munawar Hussain Wazir, Medical Superintendent District Hospital Kargil Dr Liyaqat Ai Khan, Nodal Officer Ayushman Bharat Dr Sajjad Hussain and Dr Shabir Hussain, Nodal Officer NDHM Dr Oliyat Ali, paramedical staff besides other concerned officers were present on the occasion.
In his address, Executive Councilor Mohsin Ali congratulated the entire medical fraternity for successful completion of three years of PM-JAY in the district, adding he stressed that the benefits of such schemes should reach every deserving person. He urged that campaigns should start at various villages at the block level to enlighten people about this scheme.
EC Health also urged the nodal officers of the scheme to activate their means and manpower to accelerate the process of registration in order to ensure inclusion of more people to extend benefits of the scheme.
Assuring all out support for successful implementation of the scheme, EC Health said that LAHDC Kargil is fully committed to make this scheme successful in the district.
Regarding the various benefits of the scheme, it was informed that people coming from all strata can avail its benefits which includes a health coverage of Rs 5 lakhs per family per year and benefits can be availed at all the empanelled hospitals across the country which also include District Hospital Kargil and the Community Health Centres Sankoo, Drass, Shakar Chiktan and Padum. It was further informed that under the scheme there is no cap on family size or age, the scheme is technology driven, enables cashless and paperless transactions including reimbursement of air transportation cost for patient and one attendant for tertiary care at hospitals outside UT Ladakh and other allied benefits.
The CMO Kargil informed that till now 700 families have been registered and getting benefits of the scheme. He assured the EC Health that the pace of registration will be increased in coming months, and in this regard various awareness campaigns will be conducted to aware people about the scheme.