EC Chosphel flags-off truckloads of farmyard manure to Nubra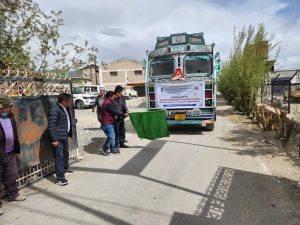 Leh, April 25: Three truckloads of farmyard manure (Rigpa) purchased from Changthang region by the Cooperative Department, Leh was flagged-off to Nubra region by the Executive Councillor, Cooperative, Stanzin Chosphel from Pashmina Dehairing Plant, Leh. Deputy Registrar Cooperative Societies, Leh, Dr Mohd Abass; Secretary, All Changthang Pashmina Growers Cooperative Marketing Society, Thinless Norbu; Assistant Registrar Cooperative Societies, Leh, Skarma Tashi and other officials of Cooperative Department, Leh were also present on the occasion.
As a strategy toward making Ladakh an organic state and as per the standing instructions of the UT Ladakh Administration and LAHDC, Leh, the Cooperative Department has been reducing the overall procurement of chemical fertilizers and corresponding its replacement with compost and local farmyard manure (Rigpa) from Changthang region.
EC Stanzin Chosphel said that the local farmyard manure, sourced specially from the Changthang region, needs to be explored and promoted on a large scale for successfully transforming into an organic state. He added that with the initiatives for making Ladakh an organic state, the local farmyard manure has immense potential.
Earlier, Deputy Registrar Cooperative Societies, Leh, Dr Mohd Abass briefed about the procurement process of (Rigpa) farmyard manure which had to be customized on the GeM portal. He added that around 1200 quintals of Rigpa have been purchased during the year 2021-22 under Special Development Package (SDP) and are being distributed to farmers on an 80% subsidy.
Further, he informed that the sale of Rigpa is proving as an alternate source of income for the nomadic sheep/goat herders of the Changthang region in addition to the sale of pashmina.