EC Agriculture, LAHDC & Secretary Agriculture inaugurated programme for the sale of fresh and organic vegetables. He called the Winter Greenhouse a great innovation for the people of Ladakh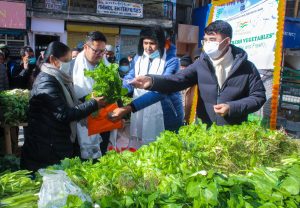 Leh, January 5: On the joyful occasion of New Year 2022, the Department of Agriculture, Leh, organised a programme for the sale of fresh and organic vegetables at the Main Market, Leh, as a part of the Azadi Ka Amrit Mahotsav. Secretary, Agriculture, Ravinder Kumar inaugurated the programme in presence of Executive Councillor, Agriculture, Stanzin Chospel and Chief Agriculture Officer, Tsetan Tashi.
The vegetables on sale were produced at the Model Ladakh Winter Greenhouse at Gupuk Farm in the harsh winter months at minus 20 degrees celsius, using natural/solar energy (carbon neutral) under Mission Organic Development Initiative (MODI). The Ladakh Winter Greenhouse has been developed with technical support from the Defence Institute of High Altitude Research (DIHAR), DRDO, Leh.
Speaking at the event, Secretary, Agriculture strongly emphasised how the concept of Winter Greenhouse was a great innovation for the people of Ladakh as they will have access to fresh and organic vegetables at affordable prices during the peak winter season. He also added that it was a great source of income for the farmers and unemployed youth. He further highlighted the importance of greenhouses in discontinuing the transportation of costly and chemical mixed vegetables from outside areas.
While addressing the media, the Secretary informed that the Agriculture Department in collaboration with Cooperative Department will support and guide the farmers in marketing the produce and opening specialised stores. He also added that the Cooperative Department will try and supply the vegetables outside Leh. Supplying the vegetables to the Army and the ITBP could also be an option that can be further explored.
Executive Councillor, Agriculture, Stanzin Chospel informed that under the Organic Mission, Ladakh is planning to build around 900 greenhouses, out of which 150 have already been completed. He also requested the farmers of Ladakh to use the subsidy provided on polycarbonate by the Agriculture Department as the material lasts for around 15 years. Polycarbonate Greenhouse technology is thus a huge milestone in the history of Ladakh. He further extended his thanks to the Secretary and all the staff of the Agriculture Department for their tremendous hard work. He also appreciated the farmers for their painstaking labour and effort in making this event happen.
Chief Agriculture Officer, Leh, Tashi Tsetan briefed the dignitaries, media and the public about the importance of Ladakh Greenhouse and the vegetables available during the event. The fresh and organic vegetables were sold out in minutes.