EC Aga Syed Mehdi Fazili visits different areas of Shakar-Chicktan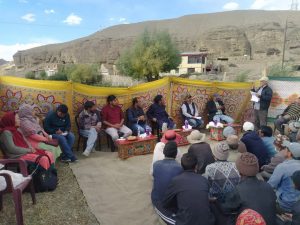 KARGIL, SEPTEMBER 21, 2022:
EC Horticulture, Social Welfare, Handloom, Animal and Sheep Husbandry Department Aga Syed Mehdi Fazili on Tuesday toured to different areas of Shakar-Chicktan block.
During the tour, he was accompanied by Nominated Councilor Padma Dorjey, Dr Ibrahim Animal Husbandry Department, Dr Anwar Sheep Husbandry Department, Officer/Officials of Social Welfare, Handloom, concerned Nambardar, Sarpanches, Panchs and local residents.
The EC addressed a public gathering at Hinaskote, Mundik, Bodhkharboo, Stakchay Khangral and Saraks in presence of Councilor, Sarpanch, PRIs members and local residents of concerned village.
He also visited Hinaskote village where the residents demanded establishment of Tailoring and Knitting Centre, construction of culvert, lift irrigation, sheep shed and installation of 4G mobile tower.
The EC also visited Bodhkharboo village where the villagers demanded fencing around the land at Brakdokthang, funds for Rarzi, distribution of feed for Animal and Sheep, establishment of Anganwadi centre and Spinning, Weaving and Knitting Centres and establishment of Zanskari Horse Farm at Bodhkharboo.
EC Fazili also visited Yak Breading Farm Bodhkharboo and also interacted with the staff. He gave a patient hearing to the demands like lack of electricity, macdamization and diversion of link road near Army camp to Yak Breading Farm Bodhkharboo.
He visited Mundik/Kundik village. The residents demanded opening of Medical Aid Centre, Sheep Centre, Ration Store, construction of Mundik chuchik khul, early restoration of JJM works, repair/renovation of Mundik shagarn community hall and Repair of Darak Foot Bridge, cement concrete wall at Yokma Khangma and Changma Lungma both side, feed for sheep and animals and funds for SHG building.
Later, the visited Saraks village where the villagers demanded extension of public ground, construction of Ration Store, immediate restoration of water under JJM and distribution of grass for livestock.
The nominated Councilor, PRIs members, Nambardars of the above concerned villages thanked EC Fazili for visiting the areas. The EC assured the locals that he will take up the issues with the Chairman/CEC, LAHDC Kargil Feroz Ahmad Khan for proper redressal.