Dy DEO Leh urges educational institutions to participate in National Voter Awareness Contest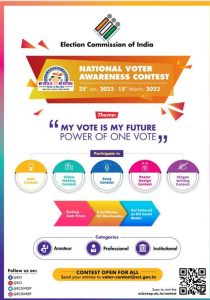 Leh, Feb 17: Deputy District Election Officer, Leh, Sonam Chosjor urges all educational institutions to ensure maximum participation of students in the National Voter Awareness Contest launched by the Election Commission of India.
The National Voters Awareness Contest themed, 'My Vote is my future-power of one vote' and is being organised to reiterate the importance of every vote through creative expression. The contest is open to all age groups and is scheduled from January 25 to March 15. It aims at celebrating ideas and content curated on the theme of importance of every single vote in a democracy.
Interested participants should check out the website of ECI https://ecisveep.nic.in/conetst/ for further details.