Dy Chairman LAHDC Leh inaugurates art exhibition, 29 artists from across India take part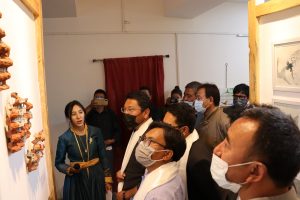 Leh, August 19: To promote the immense potential of art and culture of Ladakh, Ka Stambh, in collaboration with the Department of Tourism, UT Ladakh, organised an art exhibition on the theme, 'A Tale To Tell in Ladakh' at the Tsechu Lamo Art Gallery, Tourist Reception Centre. The art exhibition features a wide spectrum of changes in the culture, society and lifestyle with individual narrative.
Deputy Chairman, LAHDC Leh, Tsering Angchuk, inaugurated the event in the presence of councillors, officials, artists from both Ladakh and outside.
Executive Councillor, Art and Culture, Stanzin Chosphel; Executive Councillor, Animal Husbandry, Tashi Namgyal Yakzee; Councillor, Skyu-Markha, Sonam Nurboo and Councillor, Nyoma, Ishey Spalzang, were present during the art exhibition and interacted with artists from Ladakh.
Speaking during the occasion, Dy Chairman Tsering Angchuk appreciated the initiative of the Tourism Department and Ka Stambh. He stated that such exhibitions would help the local artist in the field of art and culture. He urged the people to visit the exhibition centre and take advantage of these events. Dy Chairman stressed the need for educating the youth on the importance of culture, the value of culture, the importance of revamping culture, inter-relation between art and culture and giving a platform to such events.
EC Chospel applauded the Tourism Department for the initiative. He stated that such an exhibition would be held on a larger scale in the coming years.
Assistant Director, Tourism, Jigmet Namgyal, was present during the event.