DM Leh to initiate legal action against Covid-19 SOPs violators 7 new micro-containment zones notified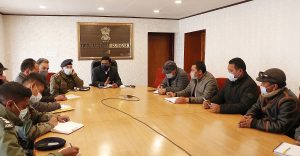 Leh, April 17: Deputy Commissioner/ Chairman of the District Disaster Management Authority (DDMA), Leh, Shrikant Suse, convened a meeting to review the present scenario of Covid-19 in the district.
Chairman, DDMA Leh, was apprised of the present situation of Covid-19 cases in the district. Out of 1106 active cases, labourers coming to Leh for work are the most affected.
Chairman, DDMA Leh, exhorted VIJAYAK/HIMANK and Contractors' Association Leh representatives to ensure that Covid protocols are adhered to where the labourers are kept/isolated and directed them to provide all medical facilities. He also warned to initiate legal action against people who fail to adhere to Covid-19 management as locals are at risk of being infected, and the medical staff are also under tremendous pressure.
Chairman, DDMA Leh, directed the officials to take all strict surveillance and monitoring of patients under home isolation.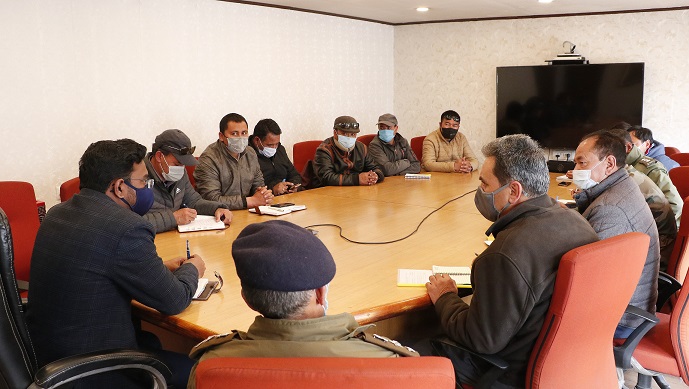 He also reviewed the current testing status in the district and impressed upon the concerned officials to conduct more RT PCR tests.
Assistant Superintendent of Police, Leh; State Surveillance Officer; Incharge, District Covid Surveillance Officer; Assistant Labour Commissioner, Leh; President, Contractor Association, Leh; representatives of labour agencies and VIJAYAK/HIMANK were present during the meeting.
DDMA Leh notified seven new micro-containment zones today where a cluster of cases was detected.