DLSA Kargil organizes one-day seminar on rights of tribal people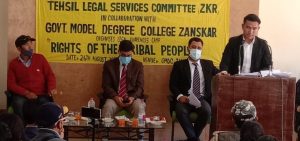 KARGIL, AUGUST 26, 2021: District Legal Services Authority (DLSA) Kargil in collaboration with Government Model Degree College (GMDC) Zanskar organized one-day seminar on the theme-Rights of the Tribal People here today.
Chairman DLSA and Principal District and Sessions Judge Kargil Muhammad Rafiq Chak was the chief guest on the occasion.
Speaking on the occasion, the Chairman DLSA enlightened the participants about the rights of tribals in India with respect to access to justice. He also spoke about various other provisions under the Constitution of India to improve the life of the Scheduled Tribes.
The Principal District and Sessions Judge Kargil also assured all possible steps to extend legal services to the people of Zanskar in general and the students in particular.
Munsiff/Judicial Magistrate 1st Class Moneer Ahmad also highlighted some of the important aspects regarding the theme.
President Bar Association Kargil Advocate Khadim Hussain, Secretary Bar Association Kargil Advocate Talib Hussain and members of the Bar Association Advocate Muhammad Salim and Advocate Lobzang Gaylack also delivered speeches on different aspects pertaining to the theme.
Earlier, Principal GMDC Zanskar Nasir Shabani while welcoming the guests appreciated the role of DSLA Kargil in imparting legal awareness among the masses. He also requested the chief guest to constitute a legal awareness club in the college.
Students of GMDC Zanskar and Higher Secondary School Padum also delivered speeches on rights of the tribal people.