Div Com Ladakh Saugat Biswas visits Chanigund, Hardass, Civil Helipad Reviews works under NRLM and Van Dhan Scheme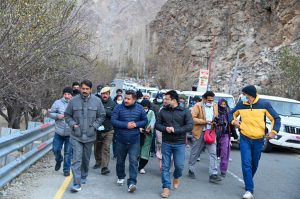 KARGIL, DECEMBER 11, 2021: Divisional Commissioner Ladakh Saugat Biswas today visited Chanigund, Hardass and Civil Helipad and took review of many developmental projects of different departments and directed for early completion of under-construction projects.
During the visit, the Divisional Commissioner was accompanied by ACD Kargil, DPO, AEE Rural Development Department, JEE MGNREGA, VLW Kargil besides other senior officers and officials of other concern departments.
At Chanigund he interacted with women Self Help Groups, who are part of the National Rural Livelihood Mission (NRLM) and are associated with apricot business and local traditional products.
The members of Self Help Group briefed the Divisional Commissioner about the process, packaging and marketing of apricot oil. They also showcased other local products out of which they make their livelihood.
During the visit, the Divisional Commissioner was apprised by the officials that the local products have the potential to make way in national markets.
ACD Kargil Ghulam Mohammed informed that they have identified key areas where they can help the local artisans especially women to grow and become financially independent.
The Divisional Commissioner also visited the under-construction Handloom Facility Centre at Chanigund which is aimed to felicitate the local artisans.
He was informed that the Handloom Facility Centre will help artisans of Chanigund, Hardass and other adjacent areas to carry on the traditional Handicrafts activities so as to promote, and facilitate the engaged craftsperson.
Saugat Biswas directed the concerned officials to complete the wiring work on the building and also ensure proper drinking water supply to the centre as soon as possible.
The Divisional Commissioner informed that government has sanctioned such centres for other areas of Kargil as well and the work on remaining centres will be started from next year.
He also visited Panchayat Ghar Chanigund where he directed the concerned officials to complete the remaining work in time.
The Divisional Commissioner visited Apricot Oil Processing Unit and Solar Apricot Dryer Units too.
Later, Saugat Biswas inspected Panchayat Ghar/CFC Hardass where he interacted with Self Help Groups of the NRLM and assured them full support in addressing their demands and informed them about several measures that are being taken up by the UT administration for upliftment and welfare of the self help groups.
The Divisional Commissioner also visited Civil Helipad at Kurbathang where he inspected the ongoing development works at the site, and directed the concerned officers to extend the helipad site. He stressed that the helipad is of utmost importance and would be used in winter for the general public.
He also appreciated the concerned agency for doing an excellent job and expressed optimism that the construction would be completed soon.