District Industries Centre Kargil holds exporters conclave Experts stress on export trade for economic upliftment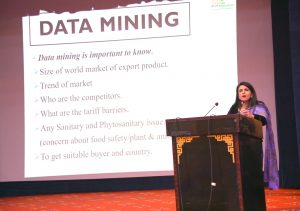 KARGIL, SEPTEMBER 25, 2021: District Industries Centre Kargil, Department of Industries and Commerce Ladakh in collaboration with Directorate General of Foreign Trade (DGFT) on Friday held a program on export trade at Auditorium Kargil which was attended by students and entrepreneurs.
The programme was organised with the objective of mentoring students in the arena of international business and generating interest amongst them towards understanding the connection between foreign trade and the economic upliftment of the country.
Aruna Narula, who is a member of Business Excellence Export System, DGFT gave a detailed presentation on import and export of local products.
The participants were briefed about schemes run by DGFT like Service Export from India Scheme (SEIS), Scheme for Rebate of State and Central Taxes and Levies (RoSCTL), Remission of Duties and Taxes on Export Products (RoDTEF), Advance Authorization Scheme etc.
Narula talked on how to start businesses or companies in order to excel in export of unexplored products that have the potential to find place in international markets. She also explained about the importance of buyer management in international trade and use of Information and Communication Technology (ICT).
"When we excel in export trade it will help the country to create foreign exchangers to help grow the economy. We need to wake up early," she said.
On the occasion, Sukhdev Banerji, Assistant Director DGFT said the programme focused on economic growth, especially the promotion of exports from India. He said the event is an opportunity for all smaller and bigger export units to showcase their export products and potential during this week.
Banerji said DGFT is an attached office under the Ministry of Commerce and Industry Government of India which formulates and implements foreign trade policy of the country and deals with trade and commerce. He said in order to tap the potential of agricultural, industrial products, the Department of Commerce, through DGFT, is engaging with states and union territories to implement the Districts as Export Hub (DEH) initiative in all districts of the country in a phased manner.
Highlighting the objective of DEH initiative, Banerji said that it is aimed to mobilize each district of the country to achieve its potential as an export hub under the DEH initiative District Expert Promotion Committees (DEPC) have been constituted in most of the districts and product/services with export potential have been identified in each district. He said for Leh district, tourism has been identified for services while sea buckthorn has been selected as export potential product. While apricot, pashmina, yak milk and yak wool have been identified as export potential products in case of Kargil District.
Banerji said there is no separate data available for Ladakh UT. He however said Ladakh's Merchandise Export in May 2021 is Rs 5,71,626 for the export of hand-operated spanners.
"These figures are negligible when compared to the total quantum of exports from India and it needs serious efforts to enhance export business through training and counselling," he said.
Earlier, in his welcome address, Iftikhar Naseem, General Manager District Industries Centre Kargil gave a detailed introduction on DGFT, which is an organisation under the Ministry of Commerce and Industries. He said this was the first of its kind programme in Kargil District which was aimed at informing students and entrepreneurs on how to solve problems of export business.
Graduate students also attended the programme and were informed about options for excelling in their business in foreign markets and related schemes available.
Haji Ansar Hussain Hussain, District Superintendent Handloom Department Kargil presented vote of thanks at the end.