Director RDD holds meeting with RDD officers/stakeholders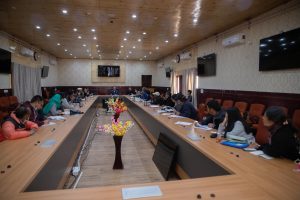 Leh, April 20: The Director, Rural Development Department, UT Ladakh, Tahir Hussain chaired a meeting with the Assistant Commissioner Development, Leh; Assistant Director, RDD Leh; District Panchayat Officer, Leh; Chairman, Block Development Councils and Block Development Officers to discuss various agendas related to the department.
The meeting had detailed deliberation on the annual plan for the financial year 2022-23 under Block Development Council Grants, Greywater management status, work status under MGNREGA and other issues.
At the outset, Director, RDD directed all the concerned officers to achieve the set targets under different plan heads within a stipulated time frame and to ensure that the ongoing works from the previous financial year are completed with utmost priority.
Director RDD stressed that the centrally sponsored schemes, such as MGNREGA and Swachh Bharat Mission (SBG)-Gramin are monitored at the highest level. Therefore, he impressed upon the concerned officers to ensure that the works of greywater management units under SBM are achieved as per the set deadlines.
He also instructed the chairperson BDCs to ensure that MGNREGA parameters, including Aadhar seeding, job card verification, and geo-tagging are duly updated from their end. He directed the concerned officers/officials to submit a list of proposals for works that need intervention at a higher level.
Chairman, Block Development Council, Leh, Dr Skalzang Dorjey shared that the funds of BDCs should be optimally utilized in the overall development of the block. He added that the involvement of all stakeholders is significant in the BDC meetings.
The BDCs chairpersons also shared the issues faced by them pertaining to the implementation of the schemes and completion of projects.