Director Industries facilitates trainees of Apricot, leather producers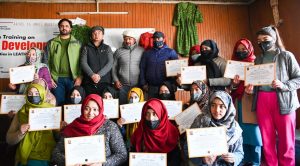 KARGIL, FEBRUARY 17, 2022: Director Industries and Commerce, Moses Kunzang today facilitated trainees of Apricot jam and juice and leather processing with certificates here at Handloom Department.
Assistant Commissioner Development (ACD) Ghulam Muhammad and General Manager District Industries Centre, Iftikhar Ahmad were present on the occasion.
The two-day long training for Apricot jam and juice processing was organized in June 2021 by the Industries and Commerce Department and Rural Development Department which 65 trainees had participated and were trained.
The month-long leather processing training was conducted by the Handloom Department in collaboration with NRLM, Rural Development Department where 30 students were trained.
Now, the Industries and Commerce Department also facilitated local producers viz Apricot jam, Apricot juice, woolen cloths, leather products with packaging, branding and labeling.
Kunzang instructed trainees to make progress in their trade, work hard in producing local products and remain in touch with the department for further progress and benefits.
The director also inspected the packaging, branding and labeling of the local products that are meant to facilitate the local artisans. He also informed that the department has developed a catalog featuring 12 different brands of local produces.
The catalog will be available on the website of Industries and Commerce and in consulates in different cities that will function as a bridge to bring the customers in contact with the local artisans and manufacturers.