Director Education Ladakh inaugurates District Level Science Exhibition at DIET Kargil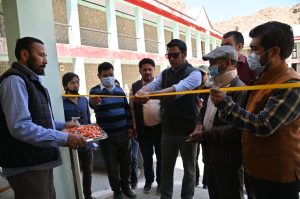 KARGIL, SEPTEMBER 07, 2021: To inculcate scientific temper, innovation and creativity among students, Director School Education Ladakh, Safdar Ali inaugurated a district level science exhibition at District Institute of Education and Training (DIET) Kargil here today.
Principal DIET Ghulam Haider, teaching staff, jury members, mentors and student participants were present on the occasion.
Students from around 18 higher secondary schools across the district participated in the exhibition where students presented various experimental models.
The Director Education inspected all the models patiently and also interacted with the students.
Muhammad Hussain of Government Higher Secondary School Shargole secured the 1st position followed by Zulfiqar Ali of Government Higher Secondary School Trespone who got the 2nd prize while Archo Bintul Huda of Higher Secondary School Lankarchay secured the 3rd prize.
The title of top three models was Central Heating System in Rooms from HSS Shargole, Electrolysis of Water and its Applicability from HSS Trespone and Hydroponics from HSS Lankarchay.
Models from other schools included those on mini hydel projects, sewerage water treatment, traditional chulah room heating, energy generation using water wheel, traffic management at District Hospital Kargil, wireless sound transfer by photo electronic effect, sewerage treatment plant, hydroponic farming, rain water harvesting, drip irrigation, innovation of touch pen, solar flour mill, cultivation of vegetables and medicinal plants.
Director Education Safdar Ali appreciated the students for their innovation and experimental projects and urged them to keep trying such creative things to further polish their creativity.
Meanwhile, it was informed on the occasion that the first 3 position holders will participate in the state level science exhibition to be held in near future.
Pertinently, this is the first phase of activities of its kind and the next phase will focus on high, middle and primary level schools.