Director ASH&F launches app for census enumeration in sheep/goat sector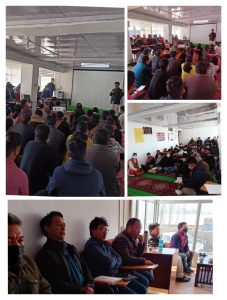 Leh, April 01: Director, Animal/Sheep Husbandry and Fisheries (ASH&F) Department, UT Ladakh, Dr Mohammad Raza launched a mobile application for conducting socio-economic census in the sheep/goat sector of Leh district for the year 2022-23 during the one-day training regarding census enumeration held today.
Addressing the gathering, Director, ASH&F, Dr Raza instructed the 50 field in-charges and block officers to conduct the census in a timely and orderly manner.
The event was attended by Deputy Director, ASH&F Department, Dr Tsewang Morup; District Sheep Husbandry Officer, Leh, Dr Tundup Namgail, Deputy Registrar Cooperatives, Dr Mohd Abbas and other concerned officers of the department.