Dir Animal Husbandry launches free cattle feed distribution to dairy farmers at Tangole village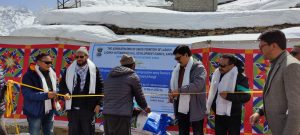 KARGIL, MARCH 21, 2022: Director Animal/Sheep Husbandry and Fisheries, Dr Muhammad Raza on the eve of Nauroz and as part of his second consecutive tour of Kargil today visited Tangole village of Taisuru block.
The director launched the free cattle feed distribution to progressive dairy farmers of the district from Tangole village in respect of the Animal Husbandry department Kargil.
He was accompanied by Councillor Parkachik, Haji Ghulam Muhammad, CAHO Kargil Dr Muhammad Ismail, DSHO Kargil, Dr Iftikhar Hussain, VAS Panikhar, Dr Muhammad Ashraf and Dr Asgar Ud Deen TO CAHO Kargil.
A large number of farmers greeted the worthy director and the accompanying doctors.
A total of 70 quintals of cattle feed was distributed among the dairy farmers of snow-bound areas of Kargil district under contingency plan 2021-22 funded by the UT administration.
Meanwhile, in his public address Councillor, Parkachik expressed gratitude to the director for visiting the remote village Tangole and was satisfied on working of the department, the outreach of various initiatives and schemes to the farthest corners of the district.
The CAHO Kargil also expressed pleasure to witness the presence of the director and the DSHO at the launch event of the free Cattle feed distribution to progressive farmers.
The DSHO Kargil also informed the villagers regarding the concentrate feed distribution initiative of SHD Kargil.
The villagers put forth some of their genuine demands to which the director gave a patient hearing and promised to fulfill their genuine demands.
The program ended on a pleasant note with a vote of thanks from VAS Panikhar and the beneficiary farmers.
While way back, the director visited the Cattle Breeding Farm at Kurbathang Kargil and took stock of various ongoing projects at the farm.