DC Shrikant Suse reviews progress of JJM in Leh district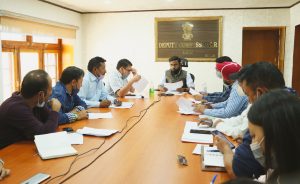 Leh, September 02: Deputy Commissioner, Leh, Shrikant Suse, today convened a meeting to review the progress of the work in Leh district under the Jal Jeevan Mission. Chief Planning Officer, Leh; officials from the Public Health Engineer (PHE) Department and Implementing Support Agency (ISA) were present in the meeting.
The officials discussed the progress on the installation of functional household tap connections (FHTCs), preparation of detailed project reports (DPRs), updating the e-Jal Shakti portal, tendering of project work and update on drinking water testing laboratories.
DC Leh Shrikant Suse directed the concerned officials to complete the work at schools, including residential schools at Tharuk and Puga, and Anganwadi centres by September 15. He further directed the officials to remove the name of the non-functional/closed schools from the Jal Shakti portal.
DC Leh impressed upon the concerned officials to update the Jal Shakti portal regularly so that the completed work would reflect on the portal. He also inquired about the progress of work in the sub-divisions and blocks of the Leh district. He exhorted the officials to expedite the work and complete it at the earliest.
The PHE Department officials apprised DC Leh of the challenges faced by them. DC Leh further directed ISA and PHE Department officials to share data to ensure that the latest information is updated on the Jal Shakti web portal. He also impressed upon them to prepare a comparative statement and highlight the shortfalls.
DC Leh asked the PHE Department to make temporary arrangements such as hand pumps to provide drinking water to nomads in the Changthang area.