DC Leh visits Markha to assess recent flash flood damages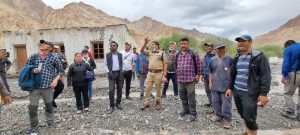 Leh, July 29: Deputy Commissioner (DC), Leh, Shrikant Suse today visited Markha village to take first-hand assessment of the damages caused by the recent flash flood and mudslide in the area. Senior Superintendent of Police (SSP), Leh, Rajiv Pandey accompanied him during the visit.
Skyu-Markha Councillor, Sonam Nurboo apprised the DC of the damages caused by the recent flash flood/mudslides to the agricultural lands, irrigation canal, medical sub-centre, school building and the community hall.
DC Leh, Shrikant Suse directed the concerned officials to assess the damages and start the restoration work at the earliest.
District Red Cross Society, Leh provided flood-relief to the 17 households affected due to flood in Markha village.
Officials from concerned departments, such as Revenue, CAPD, Irrigation and Flood Control, Rural, PWD and Health are also present during the visit for assessment and restoration works on the village on priority basis.