DC Leh reviews progress of helipad works under SDP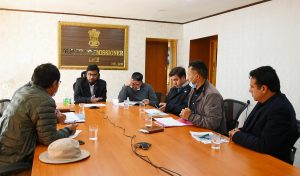 Leh, Oct 21: Deputy Commissioner/ CEO LAHDC Leh, Shrikant Suse, convened a virtual meeting to review the progress of the construction of helipad works under the Special Development Package (SDP).
DC Leh took a location-wise review of the status of construction works of the helipad executed under SDP for the landing of B3 and Mi17 in Nyoma, Durbuk, Khaltsi, Nubra subdivisions Nubra and Leh.
Executive Engineers from R&B, REW and Construction apprised DC Leh of the location-wise status of the tendering process, allotment and ongoing works.
DC Leh directed all executive agencies to ensure works as per the requirements and guidelines and expedite ongoing works.
Chief Planning Officer, District Superintending Engineer, PWD Circle, Assistant Commissioner Development, all Executive Engineers of PWD and REW took part in the meeting.