DC Kargil chairs review meeting of JJM Ensure 100 percent FHTC coverage by July 15, 2022: DC Santosh to officers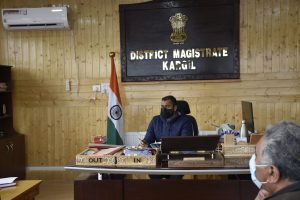 KARGIL, JANUARY 28, 2021: Deputy Commissioner and CEO, LAHDC, Kargil Santosh Sukhadeve today chaired a meeting of officers to review the progress of Jal Jeevan Mission (JJM) in the district.
District Superintending Engineer PWD Circle Kargil, Chief Planning Officer Kargil, Executive Engineer PHE Kargil, Executive Engineer PWD Division, concerned AEEs of PHE subdivisions, concerned AEs of JJM works, implementing support agency, third party inspection agency and District Team Leader PMU Kargil attended the meeting.
During the meeting, Deputy Commissioner took a detailed review of work and progress of Functional Household Tap Connections (FHTCs) for providing safe and adequate drinking water under the JJM scheme in the district.
He emphasized that 100 percent FHTC coverage under the JJM has to be achieved by July 15, 2022.
DC Santosh appealed people of Kargil to help the administration in achieving 100 percent FHTC target and make it a Jan Abhiyan so that safe and assured drinking water is provided to every rural household on priority.
He also inquired from the engineers about the pending DPR allotments and directed them to complete the pending allotments by February 15, 2022.
DC Kargil further asked the engineers to inform him in case any contractor doesn't work so that erring can be blacklisted. He also asked them to submit a detailed action plan within a week's time.
DC Santosh instructed the Superintending Engineer, Executive Engineer and third party inspection agency to visit JJM Pashkum and Kaksar site physically in order to witness the issues occurring related to the implementation of JJM.
In the meeting, the officers concerned informed the Deputy Commissioner that the Water Testing Laboratory is fully equipped.
DC Kargil directed all the AEEs to submit details about the number of villages, no. of habitations to be covered, no. of DPRs made so far, no of tendered and allotted DPR, reason of pending DPRs (if any DPR is pending), no of schools and Anganwadi centres, number of pipes available, no of pipes required and the action plan must be submitted as soon as possible.
The Deputy Commissioner also directed CPO to prepare a list of district officers who can be made incharges of various villages for monitoring the progress and resolve the issues, if any.