Covid-19: Vaccination of children aged between 15 and 18 begins in Khaltse 350 beneficiaries receives vaccination till 3:50 in Khaltse block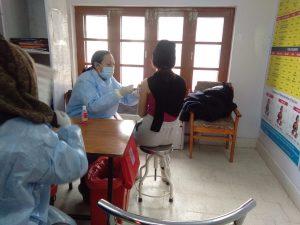 Leh, January, 05: COVID-19 vaccination drive for beneficiaries in the age bracket of 15-18 years begins today at CHC Khaltse. The vaccination drive was started in the presence of BMO Khaltse, Dr. Chamba Laskit. All concerned paramedical staff and beneficiaries from different villages of Khaltse block were present.
Similarly, vaccination drive for beneficiaries above 15 to 18 years was carried out at CHC Skurbuchan, PHC Saspol and New Type (NT) Primary Health Centre (PHC), Hanu.
The beneficiaries registered themselves before vaccination and were kept in the observation room for 30 minutes for supervision.
The total target was 1074, out of which 350 beneficiaries received their vaccination till 3:50.