Covid-19 SOP inspection in Khaltsi market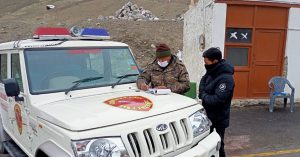 Leh, Jan 04: As per the order issued by the Chairman, District Disaster Management Authority (DDMA) Leh, Shrikant Suse, Incharge Police Post Khaltse, Skarma Angchuk conducted a surprise visit at Khaltse market and its surroundings to inspect the implementation of Covid-19 SOPs. He directed the shopkeepers to strictly observe the Covid-19 SOPs and Covid Appropriate Behaviour.
A total of Rs 2500 was collected as a fine from Covid-19 SOP violators.