Covid-19: SDM Drass visits coaching centres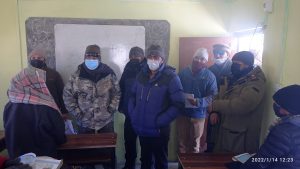 KARGIL, JANUARY 14, 2022: Amid the surge in Covid-19 cases, Sub Divisional Magistrate (SDM) Drass along with SHO Drass today visited various coaching centres in the sub-division during which it was found that all the centres follow Covid-19 SOPs.
During visit, the SDM found that all coaching centres follow the SOPs of Covid-19 issued by the District Magistrate Kargil.
He also inspected the arrangements of heating in coaching centres. Except few coaching centres all centres have been working in a proper manner.
The SDM appealed the heads of coaching centres to ensure that all students, teachers wear masks, follow precautionary measures of Covid-19 in order to help contain the virus spread.