Cooperative Dept Leh organises one-day farmers/consumers awareness programme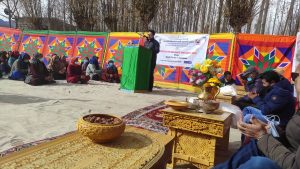 Leh, Nov 27: Cooperative Department, Leh organised a one-day farmers/consumers awareness programme as a part of the Azadi ka Amrit Mahotsav celebrations at Chushot Gongma.
Executive Councillor, LAHDC Leh, Stanzin Chosphel, was the chief guest on the occasion. Speaking during the event, EC Chosphel underlined the importance of the Cooperative Department in providing quality service and marketing various products of the local farmers. He assured all support to the society.
Deputy Registrar Cooperative Societies, Leh, Dr Mohd Abass, highlighted various activities and schemes implemented by the Cooperative Department for the public, including marketing or providing services at fair prices.
District Audit Officer, Leh, Ghulam Sultan Tak, stressed the need for transparent and continued transactions for successful and
smoothing running of the cooperative society.
Mohammad Hussain from Primary Cooperative Society, Chushot Gongma, gave the welcome speech, whereas Haji Mohsin Ali, Nambardar, Chushot Gongma, gave the vote of thanks.
Earlier, EC Chosphel inaugurated the renovated cooperative retail outlet at Chushot Gongma. Primary Cooperative Society has stocked all essential supplies in the retail outlet with help from the Bami Duniya Cooperative Society, Leh.
Skarma Tashi, ARC Leh; Punchok Angchok, Supervisor; Mohd Abuzar, representative BDCS and other village representatives of Chuchot took part in the event.