Constitution Day of India celebrates in Leh, UT Ladakh on 26th November, 2019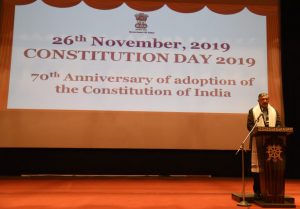 Leh: Along with the rest of the Nation, Constitution day or Samvidhan Divas, was celebrated in Ladakh to mark the adopting of the Indian Constitution by the constituent assembly on this day in 1949. The event was held at Sindhu Sanskriti Kendrya Leh which was attended by CEC LAHDC, Leh Gyal P Wangyal, Advisor to LG Ladakh Umang Narula, Deputy Chairman LAHDC Tsering Sandup and Executive Councilors.
Commissioner Secretary Ladakh Rigzin Samphel, Div Com Ladakh Saugat Biswas, IG Police S.S Khandare, Councilors, District Officers and students were also present on the occasion.
A message from Lt. Governor of Ladakh, Shri R. K. Mathur was conveyed through video presentation at the event today. In his message LG Ladakh said that it's a happy moment that UT Ladakh along with the rest of the country is celebrating this auspicious day. He said that our constitution determines our country's development which requires participation of both government and public in playing their respective roles. Expressing his belief, Mathur said that where government has to work for development, people are also liable to support government in implementation of development schemes. In this regard, he informed that as per the decision taken at GoI level, fundamental duties will be highlighted in schools and institutes by means of debate and discussions to ensure peoples' support to government. He expressed hope that the people of Ladakh will have their participation and make the event successful.
Addressing the gathering, CEC called the day special for the whole country as this year marks the completion of 70 years of adoption of the Constitution. He said that this day helps to ignite the lamp of knowledge in the minds of new generation, especially students who can understand the importance of Indian constitution, respect it and follow it religiously. He added that it makes us stay connected in the current era when people are forgetting the importance of democracy. He urged everyone to at least read our constitution once in a lifetime as it is well augmented from every dimension and gives a reflection of the Indian Nation. He appealed to take a vow today that we will forever respect our nation and the Constitution of India.
Speaking on the occasion Advisor to LG Ladakh Umang Narula expressed gaiety on his participation in the important events of constitution day which is his first event in UT Ladakh. He said that it is a momentous occasion for Ladakh to celebrate this day because after becoming a union territory constitution of India is now fully applicable in Ladakh and all its benefit will be available to the people of this region. He spoke of the enormous amount of development, improvement in the quality of life and other opportunities that UT administration hope to envisage for the people of Ladakh.
The Advisor mentioned of PM Narendra Modi's idea on the importance and virtue of one nation, one constitution as a goal to strengthen our nationhood and encourage us to take pride in being an Indian citizen and contribute to its growth. He urged all the stakeholders to organise series of activities to highlight the features and benefit of the constitution and spread it specially among the younger generation to ensure better understanding of constitution rights and fundamental duties for future.
Div Com Ladakh, Saugat Biswas presented the welcome speech on the occasion. He cited the last speech of Dr. B.R. Ambedkar given in the Constituent Assembly on Nov 25, 1949 and said the this day reminds all of us of the challenges posed while in the era of political democracy with one man, one vote, one vote, one value with equal political rights to ensure social democracy and economic equality successfully. He stressed on the need to go ahead with the vision of stalwarts of freedom strugglers' of our country and to work hard on achieving it.
With the reading of the Preamble of the constitution of India everyone present on the occasion took a pledge. Students from different schools presented speech on topics like Importance of Constitution Day, Role of Bharat Ratna Dr. B.R. Ambedkar in drafting constitution of India, Indian Constitution & fundamental duties, etc. A quiz competition was conducted and a culture performance was also presented by students of Govt. High School Thiksey. The participating students were presented prizes by CEC, LAHDC and Advisor to LG Ladakh on the occasion.
Source: Department of Information and Public Relations, Leh Ladakh.