Chairman DDMA Leh reviews action for fire safety audit at SNM hospital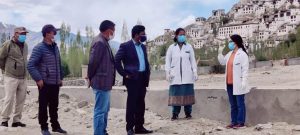 Leh, May 13: Chairman, DDMA Leh, Shrikant Suse, today visited the SNM Hospital, Leh, to review action taken on the fire safety audit of the hospital.
He inspected the fire safety equipment installed at the hospital, including fire extinguishers, hydrant system, fire alarms and fire exits and also checked their functionality/working condition on the spot.
Chairman, DDMA Leh, directed the Construction Division to redesign the fire alarm system and exit routes free from obstruction and install a full-proof fire safety mechanism at the storage room of oxygen cylinders and oxygen plant.
He also directed the Medical Superintendent of SNM Hospital to ensure decentralised storage of oxygen cylinders. Concerned officers from the construction division assured that necessary changes suggested by the Department of Fire and Emergency Services are being made on a war footing basis.
Chairman, DDMA Leh, directed the MS to organise a refresher course for the hospital staff on handling fire safety equipment during an emergency in coordination with SDRF.
He also inspected the site for the installation of the proposed new 1000 LPM oxygen plant at SNM.
Earlier, Chairman, DDMA Leh, visited the containment zone in Thiksey village to take stock of the arrangements, including the availability of medicines and essential commodities and services, contact tracing and sampling in containment zones.
Incharge, Covid Command Centre, Leh representatives from Fire and Emergency Services Department, Leh; Assistant Executive Engineer, Construction Division, PWD Leh accompanied Chairman, DDMA Leh during the visit.