CEC reviews Covid-19 situation in Leh Administration to impose strict Covid protocols to contain the spread of Coronavirus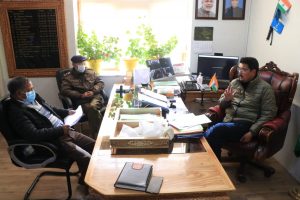 Leh, Nov 13: The Chairman/CEC, LAHDC Leh, Adv. Tashi Gyalson today conducted a review meeting with the officials of District Administration and Health Department Leh to assess the current situation of Covid-19 in Leh district.
The meeting discussed in detail a multi-pronged strategy to defeat the new variant of the deadly virus especially among the susceptible population who haven't been inoculated till now. In view of the upcoming Board Examinations for class 10th and 12th, the meeting also discussed conducting the examination by maintaining proper Covid protocols with safety measures for the staff as well as students.
Also, looking at the rise in positive cases and deaths due to Covid-19 in the district, the meeting also decided to issue new SOPs from the District Administration as per the regulations from the District Disaster Management Authority.
Furthermore, he advised DC Leh to enforce all measures to suppress the community's spread of the virus. He also instructed law enforcement agencies to ensure strict implementation of Covid protocols and Covid Appropriate Behavior (CAB) among the public in the district. CEC Gyalson once again appealed to the people of Leh to follow all the guidelines and SOPs related to Covid-19 strictly especially during social and religious gatherings these days.
The meeting was attended by Dy Chairman, Tsering Angchuk, DC/CEO LAHDC Leh, Shrikant Suse, Director Health UT Ladakh, Addl. Superintendent of Police Leh, Chief Medical Officer Leh, Chief Education Officer Leh, Dy CMO Leh, and Medical Superintendent SNM Hospital Leh.