CEC Leh reviews status of works under CAPEX, SDP, BADP and Centrally sponsored schemes in Leh Instructs HODs to expedite works under District Plan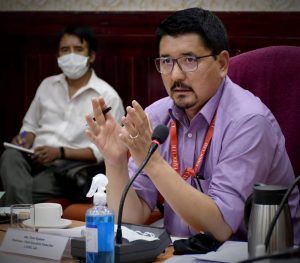 Leh, Aug 23: To review the progress and the status of works under the CAPEX, SDP, BADP and Centrally sponsored schemes in Leh, the Chairman/Chief Executive Councillor, LAHDC, Leh, Advocate Tashi Gyalson chaired a review meeting with the district officers and concerned head of departments (HODs) at the DC-Conference hall today.
CEC Gyalson reviewed the status of projects in departments like Rural Development Department, PWD, I&FC, PHE and works taken by executing agencies like the CPWD, NHIDCL, WAPCOS, etc. He further directed all officers to ensure 100% expenditure in every sector and all physical work to be done as per allocation.
Taking note of the delay in implementation of allocated work and expenditures in the District Plan, CEC Tashi Gyalson directed concerned HODs and engineers to speed up the work process under the District Plan of the CAPEX budget within the given time frame. He stated that the projects under the District CAPEX budget are planned according to the aspirations of the people of Leh district and instructed district officers to expedite formalities and groundworks on all the projects keeping in view the short working season in the region.
Dy Chairman, LAHDC Leh, Tsering Angchuk, Executive Councillor for RDD, Tashi Namgyal Yakzee; Executive Councillor for Minority, Ghulam Mehdi Ashoor; Executive Councillor for Agriculture, Stanzin Chosphel; DC/CEO LAHDC Leh; Shrikant Suse; CPO Leh, Tsewang Gyalson, DSE PWD Leh, and concerned Executive Engineers of R&B, Construction, I&FC, PHE, Chief Engineers and Executive Engineers of CPWD, NHIDCL and WAPCOS attended the meeting.