CEC Leh reviews sector-wise action plan for subsidy components of Leh district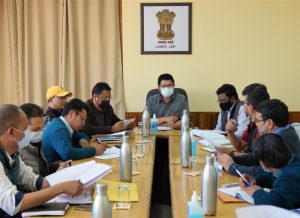 Leh, Sep 16: LAHDC Leh has introduced huge subsidy components in various departments for the welfare of the people of Leh district, especially people living in remote regions engaged with Agriculture, Horticulture, ASH, Sports, Handicraft, Handloom and other sectors earlier this year under the subsidized plan for the year 2021-22.
The Chairman/CEC, LAHDC Leh, Advocate Tashi Gyalson along with the Dy Chairman, Tsering Angchuk, Executive Councillor for Horticulture, Ghulam Mehdi Ashoor, Executive Councillor for Agriculture, Stanzin Chosphel, and DC/CEO LAHDC Leh, Shrikant Suse had a detailed discussion and deliberations on the sector-wise action plans and coverage of the subsidized components and its schemes with the HODs of all the departments.
IAO/CCF, LAHDC Leh informed all the HODs present during the meeting to finish the formalities and get the components vetted from their concern Executive Councillors and finish tendering processes by the end of this month. He also informed that the Chairman, LAHDC Leh will review the status on the 1st of October, 2021.
CEC Gyalson directed concerned district officers/officials to monitor and identify beneficiaries only in consultation with the Councillors of LAHDC Leh and to ensure timely execution of all the schemes.
This year, LAHDC Leh has granted subsidy components for ten new departments. Provisions such as advanced training centres for skill development in various trades and predator-proof corral pens have been introduced in Leh district this year that would be provided to the concerned constituencies on a need basis.