CEC Kargil convenes meeting to review physical, financial achievements under subsidy component 2021-2022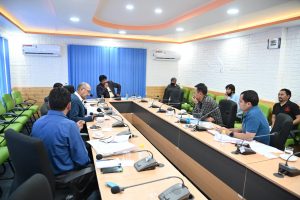 KARGIL, AUGUST 25, 2021: Chairman and Chief Executive Councillor, LAHDC, Kargil Feroz Ahmad Khan convened a meeting with the concerned district officers to review the physical and financial achievements under subsidy component 2021-2022 at Council Secretariat Kurbathang here today.
Chief Controller Finance, LAHDC, Kargil Showkat Ali Rather, Chief Animal Husbandry Officer Dr Muhammad Ismail, Chief Agriculture Officer Kacho Muhammad Ali Khan, Chief Horticulture Officer Ali Reza, In Charge District Sheep Husbandry Officer Dr Zakir Hussain besides other concerned officers attended the meeting.
Detailed discussion was held on percentage of subsidy, fixation of rates, procurement and bidding of products, transportation charges besides other related aspects while the district officers informed the CEC about status of progress achieved so far under different schemes.
As regards to the Animal and Sheep Husbandry sectors, among other issues the rates of different breeds of livestock and transportation charges for procurement of livestock were discussed.
The CEC assured that provision of requisite funds will be kept to bear transportation charges to procure livestock and other products. He further said that bidding process for procurement of tarpaulin for all departments should be done in a combined manner.
Regarding Agriculture Sector, the meeting was informed that for procurement of seeds, quotations have been sought from different national level government agencies and the procurement process will be initiated after fulfillment of all requisite codal formalities.
The Chief Agriculture Officer Kargil proposed to increase the subsidy for distribution of seeds from 75 to 90 percent to which the CEC assured to do the needful. Procurement and distribution of UV films, polycarbonate sheets and other products was also discussed in detail.
Meanwhile, the Chief Horticulture Officer Kargil informed the CEC that the department is looking forward to provide Rs 45000 to farmers to establish orchards of 2 kanals size and fencing for it. It was also informed that rate has been finalized for procurement of other products.
The CEC instructed all the concerned officers to procure the products well before the closure of the Zojila Pass. He also discussed the possibilities to provide milk vans and packaging materials on subsidy for dairy cooperatives in the district.