CEC Gyalson visits Chuchot Constituency Reviews developmental progress and public grievances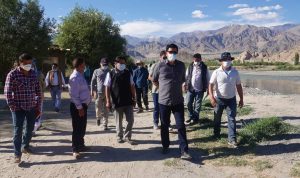 Leh, July 16: The Chairman/Chief Executive Councillor, LAHDC Leh, Advocate Tashi Gyalson made his maiden tour to the villages and mohallas of Chuchot Constituency today. He visited Skitsaling, Chuchot Yokma, Shamma, Yarlok Gongma, Shagaran Polo ground, PHC Chuchot Shamma, High Secondary School Chuchot Shamma, Eidgha, Nyenas-Khang and Ice Hockey ring sites.
CEC Gyalson was accompanied by Councillor Chuchot Constituency, Nominated Councillor, BDC Chairperson, ACD Leh, CMO Leh, Executive Engineers and Junior Engineers of Construction, PDD, PHE, Irrigation-Flood Control, Naib Tehsildar, and Village representatives led by Sarpanches and Nambardars during the day-long tour to Chuchot Constituency.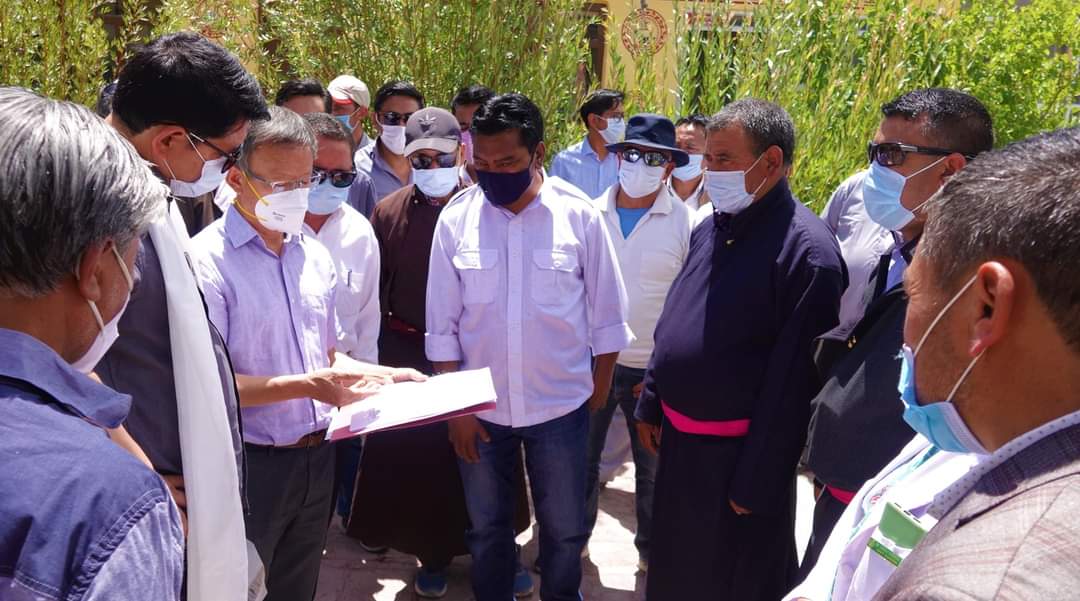 Village representatives raised various issues and demands in front of CEC Gyalson. The main issues highlighted to the CEC includes land allotment and compensation issues, need for viable internet facility and the strengthening of Primary Health Centre Chushot, sustainable drinking water facilities, Irrigation and flood control works especially for the Stok-Chuchot Nala/stream, renovation as well as black-topping of bypass roads, the requirement of additional teaching staffs at Higher Secondary School, strengthening of Women self-help groups, mobile tower issues and the upgradation of sports infrastructures in the Constituency.
CEC Gyalson evaluated all the issues with an on-ground visit to the sites. Taking note of major issues like land compensation and infrastructure upgradation required at Schools and Sports grounds, CEC Gyalson assured the public delegations that he will soon review the status of the issues with concerned departments and will sort out ways to resolve the issues at the earliest possible. He also directed concerned District Officers and Executive Engineers of various departments to timely execute all the planned developmental works in all the mohallas keeping in view the short working season. He assured the residents of Chuchot Constituency that the pending developmental works will be completed soon in a phased manner.
Post-completion of the official tour, Councillor Chuchot Constituency, Mirza Hussain termed the tour as successful in evaluating on-ground issues of the people. He extended his gratitude to CEC Tashi Gyalson and all the officers/officials of various departments to assess the ground situation and address public issues at their doorstep in this day-long tour to the constituency.
Addressing the gathering, CEC Gyalson stated that the Hill Council is dedicated to develop and uplift every community of the district and hoped that concerned departments should revisit and resolve all the issues in consultation with the residents by providing sustainable solutions to the major issues. He also seeks public participation in monitoring day to day progress of major developmental projects like the Jal Jeevan Mission (JJM) in their respective villages and requested them to raised their concerns to the Hill Council whenever and wherever required through the concerned public representatives and the Councillors.