CEC Gyalson Launches SEWA, Appreciates initiative of the NGO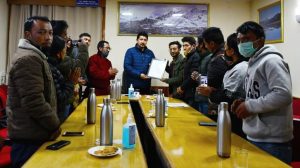 Leh, March 18: The Chairman/Chief Executive Councillor, LAHDC, Leh, Advocate Tashi Gyalson launched Social and Educational Welfare Association (SEWA) a new NGO in the presence of at the Council Secretariat, Leh yesterday.
Representatives of SEWA led by President Jigmat Stanzin apprised CEC Gyalson about the aims and objectives behind forming the association. He also highlighted the social stigmas leading to various social discrimination in the Ladakhi society and informed the meeting that the association will work towards the welfare and upliftment of poor and deprived people of the society. Members of SEWA requested LAHDC Leh to initiate social awareness along with educating the new generation regarding fundamental equality in line with the new education policy so that social stigmas will be eradicated soon.
Addressing the gathering, CEC Gyalson appreciates the team of young members of SEWA and hopes that their contribution will help the government to understand social issues and work collectively. He also highlighted the need for social engagements to discuss on a single platform so that such issues and social stigmas would get eradicate soon from society.
CEC Gyalson assured LAHDC Leh's assistance in addressing such issues with the help of SEWA when and wherever the need arises. He also agreed to be a goodwill ambassador for the NGO.