CEC Gyalson and DC Shrikant visits SNM Hospital and LHF Leh; Reviewed preparedness at the hospitals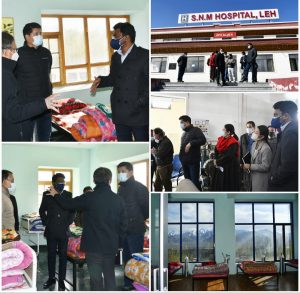 Leh, April 27: The Chairman/Chief Executive Councillor, LAHDC Leh, Advocate Tashi Gyalson along with DC/CEO LAHDC Leh, Shrikant Suse visited SNM Hospital Leh and Ladakh Heart Foundation Leh to take stock of the current situation at the hospitals and to review issues and grievances of the health workers.
CEC Gyalson discusses all the issues with Chief Medical Officer, Leh, and Medical Superintendent, SNM Hospital Leh and assured the health workers to redress all the issues at the earliest. Later, the team visited Ladakh Heart Foundation and assesses the preparations and requirements for the hospital since the hospital will be converted into Dedicated COVID Hospital soon.
CEC Gyalson and DC Shrikant were accompanied by I/C Covid Command Centre, Leh; CMO Leh; Medical Superintendent, SNM Hospital Leh; I/C DSE PWD Leh, Construction Leh, and concerned district officials.