CEC Feroz Khan reviews status of implementation of public oriented schemes under Subsidy Component 2021-22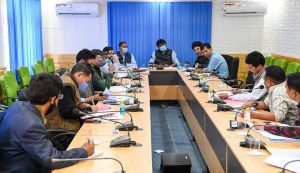 KARGIL, SEPTEMBER 06, 2021: Chairman and Chief Executive Councilor, LAHDC, Kargil Feroz Ahmad Khan chaired a review meeting with regard to the implementation of public oriented schemes under Subsidy Component 2021-22 at Council Secretariat here today.
Executive Councillor for Social Welfare Aga Syed Hassan Armaan, Executive Councilor for Tourism Er Phunsok Tashi, Deputy Commissioner and CEO, LAHDC, Kargil Santosh Sukhadeve, Chief Controller Finance LAHDC Kargil, Chief Animal Husbandry Officer, Chief Horticulture Officer, Chief Agriculture Officer, Chief Animal Husbandry Officer Kargil, Chief Education Officer, Deputy Registrar Cooperatives, Assistant Director Tourism, Assistant Director Handicrafts, Assistant Director Fisheries, District Sheep Husbandry Officer, District Youth Services and Sports Officer, Kargil, District Superintendent Handlooms, officers of KREDA and other concerned officers were present during the meeting.
During the course of the meeting, CEC Feroz Ahmad Khan directed the officers that early action should be taken on the decisions taken during the meeting, and special cells should be framed by the concerned departments to coordinate between the department and the Councilors pertaining to different matters related to the subsidy component.
CEC Khan said that as decided by the UT Administration, Subsidy Component will be framed as an independent scheme of the LAHDCs from next year which will give liberty in decision making and other important matters.
The CEC directed the officers concerned to initiate necessary steps in this regard so that by November this year a draft can be submitted to the UT Administration to frame the Subsidy Component as an independent scheme of the LAHDC Kargil from next year onwards.
Khan added that the scheme can be implemented in different sectors in this year's plan and will be highly beneficial in sectors like Education, Cooperatives, different components of Sheep Husbandry and other related sectors.
CEC Feroz Khan further directed that the subsidy component should not exceed more than 75 per cent, and a uniform rate should be framed for the procurement of materials, adding he directed the concerned departments to coordinate with the Councilors regarding different issues.
Meanwhile, thorough deliberations and discussions were held on different components of the concerned departments such as infrastructural development, procurement of raw materials, establishment of training and processing units and other related aspects.
The concerned officers gave detailed presentations on the status of achievements under the Subsidy Component and also apprised about issues related to the implementation of the scheme.
Meanwhile, the CEC Kargil directed the concerned officers to ensure fixation of rates, completion of tendering process and timely procurement of the necessary items such as livestock at earliest possibility in view of the upcoming winter season.