CEC Feroz Khan reviews developmental works in Tambis area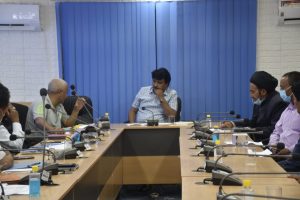 Stresses to accelerate pace of works, adherence to quality, quantity parameters
KARGIL, JULY 30, 2021: In order to review the status of developmental activities in Tambis area, Chairman and Chief Executive Councillor, LAHDC, Kargil Feroz Ahmad Khan convened a meeting of the concerned public representatives and officers at Council Secretariat here today.
Councillor Tambis Aga Syed Hadi, Assistant Commissioner Development (ACD) Kargil Ghulam Muhammad, Executive Engineers of PHE, I&FC, PDD, Suru Valley Division Sankoo and PMGSY, Deputy CMO Kargil, Panchayat Members, Nambardars besides other concerned officers attended the meeting.
Detailed discussion was held on various ongoing development works in Tambis constituency that include construction of additional rooms at Government High School Tambis, development of Shagaran to Churon Road, development of Palday, Thungos and Fatiha Khana Road, repairing of old pending pipelines, development of Panchayat Ghar at Tambis-A and Tambis-B, development of water tanks, artificial glacier and check dams to save and accumulate snow, development of Grongyul and Mayur Irrigation Canal, maintenance of roads under PMGSY, additional rooms at NT- PHC Tambis and other works.
The CEC Kargil enquired from the officers about various ongoing projects being executed or tendered, and the officers concerned enlightened him about the status of works and issues related to various ongoing projects in the area.
The concerned officers assured that tendering for construction of additional rooms at Government High School Tambis will be started within 3 days.
Regarding the Shagaran to Churon Road, the concerned officers said that execution of works are being started within a week's time. On Palday-Thungos road, the officers informed that compensation of land has not been made yet which has caused interruption in execution of work.
Regarding development of water tanks, the CEC instructed to execute work on the site within 2 days. About Grongyul and Mayur canal, the Executive Engineer I&FC informed that work will be executed at site once water supply for irrigation halts in the canal.
CEC Feroz Khan instructed the Executive Engineer PMGSY to deploy contractor on work to maintain the roads. He further instructed the Deputy CMO to ensure approval to the drawing for development of additional rooms at NT-PHC.
The CEC also instructed all the concerned officers to execute the works as per their commitments and ensure completion within the set timelines while also ensuring strict adherence to quality and quantity parameters.