CEC Feroz Khan reviews Covid-19 situation, vaccination status in Kargil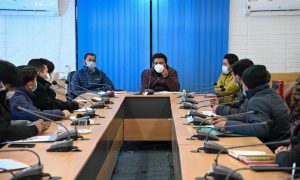 Directs health department to be prepared for any eventuality
87.38 percent population in Kargil fully vaccinated: Officials
KARGIL, JANUARY 21, 2022: Chairman and Chief Executive Councilor (CEC), LAHDC Kargil, Feroz Ahmed Khan today chaired a meeting of officers at Council Secretariat to review the COVID-19 situation and vaccination status in Kargil district.
During the meeting, CEC Khan was informed about the Covid-19 situation in the district and vaccination status through a presentation by the CMO.
The CEC while taking assessment of surveillance measures for Covid-19 positive patients said that all measures should be taken for strict adherence of the quarantine period.
Regarding tuition centres, CEC Khan directed to close those tuition centres wherefrom Covid-19 positive cases are detected.
About the functioning of an operation theatre at dedicated Covid Hospital Kargil, he directed to frame a committee of concerned officers for its operations.
CEC Khan enquired from the concerned SDM's and officers about the status of vaccination, surveillance, awareness regarding Covid-19 and other measures for containment of virus.
The CEC also stressed on increase random sampling at suspected sites.
He appreciated the health workers and other concerned executing agencies for their role in effective management of first and second wave of Covid-19 and hoped that the health department will effectively deal with the third wave.
CEC Khan directed to keep strict surveillance on tuition and coaching centres and take all necessary measures to contain the virus spread in the district.
Earlier, the CEC was informed about the vaccination status in which it was revealed that 87.38 percent of the total population in Kargil has been vaccinated with both doses.
He was also informed about the Covid-19 scenario and other works related to Covid management.
It was informed that at present, there are 176 active positive cases in Kargil. In the past two nearly two years, a total of 4,012 cases were tested positive out of which 3778 cases were discharged from hospitals.
Further, at present 15 patients are admitted at the dedicated Covid hospital. Regarding sample collection, a total of 243479 samples were collected out of which 4,012 were tested positive for Covid-19.
CEC Khan was informed that related to Covid-19 deaths, 61 cases for ex-gratia relief were received out of which 39 have been resolved and rest will be resolved at the earliest.
Regarding vaccination status, the CEC was informed that 100 percent of health workers have received 1st dose while 97 percent of them have been administered second dose.
It was also informed that for frontline workers 100 percent coverage has been achieved while 79 percent have received the second dose.
In the above 60 category, 100 percent coverage has been achieved in first dose, while 98 percent have received the second dose. Similar figures have been achieved in 45-59 age group.
Pertinently, 181,020 doses of the Covishield vaccine were received, out of which 157, 960 doses were administered.
The meeting was attended by Executive Councilor for Health, LAHDC Kargil Mohsin Ali, Deputy Commissioner and CEO LAHDC Kargil, Santosh Sukhadeve, CMO Kargil, Dr Munawwar Hussain Wazir, SDM Sankoo, Ghulam Mohiuddin Wani, SDM Shakar Chiktan Muhammad Shareef, SDM Drass, Asgar Ali, Medical Superintendent SDH Kargil, Incharge Covid Hospital Kargil, Block Medical Officers of Taisuru, Sankoo, Zanskar, Chiktan, Shargole besides concerned officers were present during the meeting.