CEC Feroz Khan launches Sambey Motik by Dr Kaniz Fatima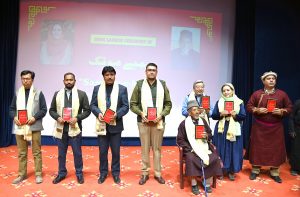 KARGIL, OCTOBER 20, 2021: Chairman and Chief Executive Councillor LAHDC, Kargil launched Sambey Motik, a collection of Ladakhi proverbs with descriptions authored by Dr Kaneez Fatima and narrated by Master Muhammad Hussain Silmo at a function held at Auditorium Hall Kargil here today.
The function was organized by Ladakh Academy of Art, Culture and Languages (LAACL), Kargil.
Executive Councilor for Tourism Er Punchok Tashi, Deputy Commissioner and CEO, LAHDC, Kargil Santosh Sukhadeve, SSP Kargil Anayat Ali Choudhary, Former CEC Kargil Kacho Ahmad Ali Khan, Former MP Ladakh Ghulam Hassan Khan , Former IAS Officer and prominent writer Kacho Asfandyar Khan Faridoon, Deputy Secretary LAACL Kargil Nazir Hussain, district officers, writers and poets, literary enthusiasts, civil society members and students from different educational institutes were present on the occasion.
In his address CEC Feroz Khan appreciated the narrator and the author of the book for taking efforts in making the book a reality. He further said that Master Muhammad Hussain Silmo is an asset for us and different scholars and cultural enthusiasts have benefitted from his expertise.
The CEC said that Kargil is rich in having good quality of scholars and authors and a required platform is needed for them to showcase their talent. Terming the role of LAACL and All India Radio Kargil significant for these creative people, he said that these institutions should further extend their support to the writers, authors and cultural activists in future as well.
Khan expressed hope that efforts of the author of the book will inspire the youths to work for the preservation and promotion of culture and heritage.
DC Kargil Santosh Sukhadeve said that as per the New Education Policy it has now become mandatory to introduce native languages at the primary level, adding he said that the LAHDC and District Administration Kargil are making necessary efforts to introduce these languages at the primary level in the district.
Author Dr Kaneez Fatima suggested the youths to get in touch with their roots and said that this book on Ladakhi proverbs can be handy in this regard.
Meanwhile, prominent scholar and author Kacho Asfandyar Khan Faridoon gave a talk on the Culture of Purig while historian and author Muhammad Sadiq Hardasi presented a book review of Sambey Motik.
PhD Scholar Muhammad Ilyas Kargili also gave a virtual presentation on the theme 'A Historiography of Book Publishing in Kargil'.
A talk on Tamley (Proverb) and 'rGya Hlu' was presented by Master Muhammad Hussain Silmo which was moderated by Assistant Professor Nasiruddin Khafi and author Dr Kaneez Fatima.
Colorful cultural programmes were also presented by the artists of LAACL Kargil including Purgi and Aryan cultural groups.
Cultural Assistant Tsewang Rigzin gave the vote of thanks while Assistant Professor Nasiruddin Khafee conducted the proceedings of the event.