CEC Feroz Khan inspects functioning of winter tuition centres at Sodh block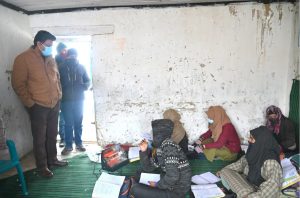 KARGIL, JANUARY 22, 2022:
Chairman and Chief Executive Councilor (CEC) LAHDC, Kargil, Feroz Ahmed Khan today inspected the functioning of winter tuition centres in the Government Schools of Sodh block.
Chief Education Officer (CEO) Kargil, Nazir Ahmed Wani, Coordinator SAMAGRA, Sajjad Husain besides other concerned officers accompanied the CEC during the visit.
During his visit, the CEC inquired from students about the availability of adequate numbers of teaching staff per subject and facilities like heating system, cleanliness of classrooms, availability of masks and hand sanitizers in schools.
CEC Khan directed CEO Kargil to hold an immediate meeting with the coordinators and Zonal Education Officers (ZEOs) to ensure winter tuition classes are held more effectively.
In view of the rising number of Covid-19 cases, he also directed the teaching staff and students to follow all the Covid-19 SOPs, issued from time to time, in order to defeat the spread of the virus.
While expressing satisfaction for the functioning of winter tuition classes at various schools, CEC Khan said it will help to impart education to students hailing from peripheries of the district.
He also appreciated the teaching staff for their continuous efforts of providing education to the students.
CEC Khan visited Government High School Akchamal, Middle School Yurbaltak, Middle School Tumail, and Middle School Apati where he inspected the classwork.
Education has been a top priority of LAHDC Kargil during the Covid-19 pandemic and Rs 2 Crores has been allotted for winter tuition for Kargil this year.
The winter tuitions were started in government schools and private coaching centres from January 12 after making all the necessary arrangements including proper heating arrangements and sanitation in these centres.