CEC Feroz Khan inaugurates two 7.5 HP solar submersible water lifting pumps at Santakschan, Dargo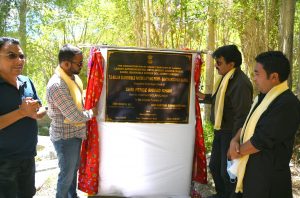 KARGIL AUGUST 24, 2021: Chairman and Chief Executive Councillor, LAHDC, Kargil Feroz Ahmad Khan inaugurated two 7.5 HP solar submersible water lifting pumps at Santakschan and Dargo village here today.
The CEC was accompanied by the Executive Councillor for Health Mohsin Ali, Deputy Commissioner and CEO, LAHDC, Kargil Santosh Sukhadeve, Project Director KREDA Kacho Ahmad Khan besides other concerned officers.
The solar submersible water lifting pumps have been developed by KREDA in a period of only 20 days in view of the drought like situation in these villages. The pumps have been developed at a cost of Rs 7 lacs and Rs 7.5 lacs at Santakchan and Dargo respectively with head range of 37 to 55 meters and flow range of 15000 LPH.
The CEC also met public delegations at both the villages and listened to their demands and grievances. At Santakschan, CEC Khan congratulated the public over fulfilment of their long pending demand for supply of irrigation water.
The locals projected demand to develop a road to the village and a motorable bridge over Indus, establishment of a separate polling station at the as the voters have to travel for a distance of about 30 kms to cast their vote besides other related demands.
The CEC assured the locals that the concerned department will be directed to prepare a DPR for development of the road and bridge to connect the village through motorable road. He also assured that the Deputy Commissioner Kargil will look into the matter for creation of polling station in the village.
Speaking on the occasion, EC Mohsin Ali who is also the Councillor of the area, extended warm welcome to the CEC and DC, and thanked them for their support in the timely provision of the solar submersible water lifting pumps. He also thanked the Project Director KREDA for completing the project in such a short period of time and further urged the villagers to make judicious use of the pumps.
DC Kargil Santosh Sukhadeve in his address said that the solar lift irrigation technique by the LAHDC and District Administration Kargil has proved a successful project in the district since its beginning at Latoo village. He said that keeping this in view, the administration is trying to replicate such projects in other areas of the district as well.
Meanwhile, at Dargo village the locals demanded the CEC to provide funds for completion of under construction community hall, development of irrigation khul from Ladoo to Dargo, construction of irrigation bund at river side to prevent land erosion and other related demands.
The CEC patiently listened to the public demands and assured to consider them for suitable follow up measures.